Minecraft Interactive Experience
Play Sound
Minecraft 1.15.2 Pre-Release 1
1.15.2 Pre-Release 1 (known as 1.15.2-pre1 in the launcher) is the first pre-release for Java Edition 1.15.2, released on January 14, 2020,[1] and the first version of the new year and the new decade.
Additions
[
]
Command format
[
]
Added doPatrolSpawning.

Controls the spawning of patrols.
Defaults to true.

Added doTraderSpawning.
General
[
]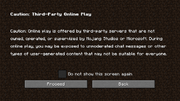 Added a legal disclaimer when clicking the multiplayer button from the main menu: a new information screen informs the player that "Online play is not rated".
Changes
[
]
Blocks
[
]
Mobs
[
]
No longer anger when a nearby beehive or bee nest is destroyed using a Silk Touch tool.
The texture of the horse armor slot in the horse GUI has been changed to reflect the current horse armor textures.
World generation
[
]
Gameplay
[
]
Effects are now stored when overwritten by an effect of a higher amplifier.

A beacon effect will only temporarily overwrite a lower amplifier potion until the beacon effect runs out.
General
[
]
Added gui_light option in models to allow controlling light when rendering model as an item in a GUI.

If set to side, the model will be rendered like a block.
If set to front, the model will be shaded like a flat item.
Game window
If the game is modded, "(Modded)" will appear after the game version found on the main menu.

Example: "Minecraft 1.15.2 (Modded)".
Profiler report
Now captures more information about performance problems.[2]
Textures
Removed a stray pixel from the bottom-right of the critical hit particle texture.
Fixes
[
]
From released versions before 1.15
From 1.15
From 1.15.1
Other
Fixed crashes and exploits.[2]
Video
[
]
Video made by slicedlime:
Trivia
[
]
1.15.2 Pre-Release 1 is the first pre-release of 2020 and of the 2020s decade
Unlike the second pre-release, this version name has a uppercase "R" in-game much like 1.15 Pre-Release 2.
References
[
]