Minecraft Interactive Experience
Play Sound
1.15.2 is a minor update to Java Edition released on January 21, 2020,[1] which adds new game rules and fixes bugs.
Additions
[
]
Command format
[
]
Added doPatrolSpawning.

Controls the spawning of patrols.
Defaults to true.

Added doTraderSpawning.
General
[
]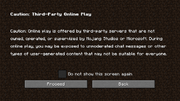 Added a legal disclaimer when clicking the multiplayer button from the main menu: a new information screen informs the player that "Online play is not rated".
Changes
[
]
Blocks
[
]
Mobs
[
]
The texture of the horse armor slot in the horse GUI has been changed to reflect the current horse armor textures.
World generation
[
]
Gameplay
[
]
Effects are now stored when overwritten by an effect of a higher amplifier.

A beacon effect will only temporarily overwrite a lower amplifier potion until the beacon effect runs out.
General
[
]
Added gui_light option in models to allow controlling light when rendering model as an item in a GUI.

If set to side, the model will be rendered like a block.
If set to front, the model will be shaded like a flat item.
Game window
Now displays the session type in the window title, such as singleplayer or multiplayer.

If applicable, the window title also specifies the type of multiplayer server the player is on, such as on a LAN or third-party server.
If there is a * after Minecraft then it's modded. Example: "Minecraft* 1.15.2 - Singleplayer"
Example: "Minecraft 1.15.2 - Multiplayer (LAN)".
Available types: "Singleplayer", "Multiplayer (LAN)", "Multiplayer (Realms)", and "Multiplayer (3rd-party)". (Any of these can be with the * mentioned above)
If the game is modded, "(Modded)" will appear with the game version found on the bottom-left of the main menu.

Example: "Minecraft 1.15.2 (Modded)".
Profiler report
Now captures more information about performance problems.[2]
Fixes
[
]
From released versions before 1.15
From 1.15
From 1.15.1
Private issues
Video
[
]
Video made by slicedlime:
Trivia
[
]
1.15.2 is the first release of 2020 and of the Cardinal 2020s decade.
References
[
]