Java Edition 1.13-pre6
1.13-pre6[1] is the sixth pre-release for Java Edition 1.13.
Additions
[
edit
]
General
[
edit
]
Added F3 + I to copy targeted block or entity data to clipboard.
Added information about the time it takes for a tick on the integrated server (singleplayer only), server brand (multiplayer only), number of packets sent by the client (tx), and number of packets received by the client (rx).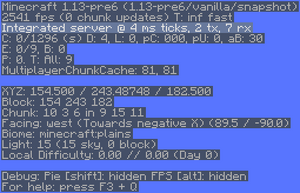 Added new sound events:

block.coral_block.break, block.coral_block.fall, block.coral_block.hit, block.coral_block.place, and block.coral_block.step
block.wet_grass.break, block.wet_grass.fall, block.wet_grass.hit, block.wet_grass.place, and block.wet_grass.step
Changes
[
edit
]
Changed treasure finding behavior to bring the player more accurately to buried treasure.
General
[
edit
]
Other
Many non-Latin alphabet characters have been given their own "textured" font. However, some characters (such as kanji and script) still use the unicode font.[

check the code

]
Fonts are now saved as TrueType font files.
Removals
[
edit
]
Removed "Force Unicode Font" option.
Other
Removed skip_existing_chunks from exploration map loot table function.
From released versions before 1.13
From the 1.13 development versions
From the previous development version
Video made by slicedlime:
This pre-release was released exactly one month after 1.13-pre1.
Footnotes
[
edit
]
References
[
edit
]