Jason Major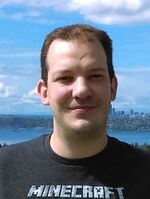 | | |
| --- | --- |
| Real name | Jason Major |
| Occupation | |
| Nationality | Canadian |
| Languages | English |
| Also known as | argo_major |
| Twitter name | |
Jason Major is a member of the Minecraft Redmond studio and a developer for Bedrock Edition.[3] He has also written a novel. He has helped program over a dozen AAA video games including NBA Live 98, Need for Speed: Hot Pursuit and Halo 2 along with numerous others. He was born and raised in Canada but currently lives in the Seattle area with his wife and two sons.
Trivia
[
]
Jason contributed major changes to rabbits, which were introduced with the first Bedrock Edition rabbits for Alpha 0.13, and later ported to Java Edition 1.9.[3]
During a game jam, Jason first came up with the stray, among a bunch of other mobs – Jeb "thought these particular ones fitted really well with what we were already planning [for Java Edition 1.10]" [4]
Root beer is one of his favorite drinks and he usually has some in glass bottles by his desk.
He occasionally joins the official Minecraft livestreams and he was present on the livestream where the dyeable beds were previewed.
Gallery
[
]
References
[
]