This article is about the glowing variant. For the regular variant, see
Squid
.
The glow squid is a variant of the squid with an aqua luminescent texture.
Spawning
In Java Edition, groups of 2–4 glow squid spawn underwater below sea level (y = 63) in total darkness and where there is a block with base_stone_overworld tag (i.e. stone, deepslate, andesite, diorite, granite or tuff) less than five blocks below the spawning space.
In Bedrock Edition, glow squid have a herd size of 2–4 and spawn anywhere in water underground (below a solid roof categorized as cave spawn, while squids are surface spawns) anywhere from y = 0 to y = 63. 5% of glow squid spawn as babies.
Drops
1–3

glow ink sac

s. The maximum amount is increased by one per level of Looting, for a maximum of 1–6 with Looting III.

1–3 experience when killed by a player or tamed wolf.
As with all other baby animals, killing a baby glow squid yields no items or experience.‌[Bedrock Edition only]
Behavior
Glow squid, like regular squid, wander around aimlessly in three dimensions as long as they are in water, opening and closing their tentacles, which gives them the appearance of pushing themselves leisurely forward.

Glow squid suffocate when out of water, dying after 300 game ticks (15 seconds). While on land, they remain stationary until they suffocate. They can take fall damage and burn like any other land mob, but they cannot drown. When out of the water, glow squid are extremely resistant to knockback.

Glow squid are passive toward the player. They are not attracted to light and do not deliberately interact with the player.

Glow squid appear to glow, but do not produce light. When attacked, they will stop glowing for 5 seconds (100 game ticks).

Glow squid cannot swim in lava, even if inflicted with Fire Resistance. They simply pass through the lava and behave as if on land.

Unlike land-based mobs, glow squid can swim against a current and not get pushed by it.‌‌[Java Edition only]

Guardians and elder guardians attack glow squid in the same manner as they would do to a player or regular squid. Axolotls, too, attack glow squid.

In Java Edition, glow squid are aquatic mobs, hence are affected by the Impaling enchantment‌[until JE Combat Tests].

Glow squid constantly produce star-shaped particles around them as well as a cloud of turquoise ink particles and swim away covering much longer distances when attacked, both of which remain visible when the glow squid has the Invisibility effect.

Glow squid sometimes beach themselves and suffocate on the banks of rivers and occasionally on ocean beaches. This is a behavior shared with normal squids due to long-lasting bugs in their AI.

If the player is in spectator mode or is far away from a glow squid,[more information needed] they remain stationary. When attacked in this state, glow squid cannot flee.

Although glow squids have a baby variant in Bedrock Edition, there is currently no way to breed them.
Sounds
Data values
ID
| Name | Namespaced ID | Numeric ID | Translation key |
| --- | --- | --- | --- |
| Glow Squid | glow_squid | 129 | entity.glow_squid.name |
Entity data
Glow squids have entity data associated with them that contains various properties.
Entity data

Tags common to all entities
Tags common to all mobs

 DarkTicksRemaining

: How many ticks until the Glow Squid starts glowing. Set to 0 while glowing, positive values mean it's not glowing.
History
Issues
Issues relating to "Glow Squid" are maintained on the bug tracker. Report issues there.
Trivia
Gallery
Screenshots
In other media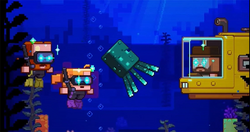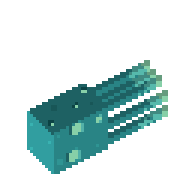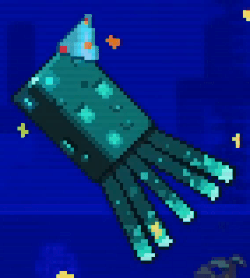 References