Minecraft Interactive Experience
Play Sound
Forest rock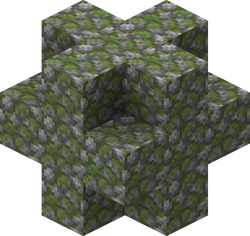 A forest rock is a small structure found throughout old growth taiga biomes.
Generation
[
]
A forest rock is a structure that represents a boulder, made entirely of mossy cobblestone. They can be found dotted around areas of the old growth taiga biome at the same Y level as grass / podzol but sometimes at high or low elevations if generated in a ravine or on a hill.
Structure
[
]
Forest rocks represent fairly large rocks, varying in size and shape, and usually half-buried in the ground. Their shapes are overall similar, although some are smaller or larger depending on generation, and whether it joins with a nearby boulder. Each face tends to have a cross shape or square shape, possibly missing a corner or two.
Data values
[
]
ID
[
]
History
[
]
Gallery
[
]
References
[
]