Minecraft Interactive Experience
Play Sound
Erik Broes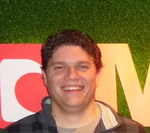 | | |
| --- | --- |
| Real name | Erik Broes |
| Date of birth | December 2[1] |
| Occupation | Game developer |
| Nationality | Dutch |
| Languages | English, Dutch[2] |
| Known for | |
| Reddit name | |
| Twitter name | |
| GitHub profile | |
| Bug tracker profile | |
| Minecraft name | |
Erik 'Grum' Broes is a game developer at Mojang Studios. He was originally hired to develop the official modding API and maintain the Minecraft server. In August 2012, his duties were broadened, to include general game development.
Broes has been actively involved with the Minecraft community, and has joined with many prominent Minecraft figures, such as appearing in SethBling's channel on YouTube,[4] a popular and well-known channel regarding Minecraft.
Broes was also previously an admin on the Dutch TweakCraft server.[5][6] While not active in-game, he was mostly active on the server's IRC channel and mainly worked on the server's plugins and coding.
Trivia
[
]
Grumm, ingame, has been hidden in most of the "cover pictures" of snapshots starting with Java Edition 13w19a.
Starting in Minecraft 1.6, any mob named "Grumm" or "Dinnerbone" or the players themselves are rendered upside-down.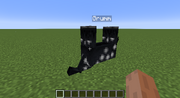 Gallery
[
]
References
[
]