Minecraft Interactive Experience
Play Sound
v1.4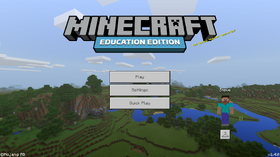 Edition
Official name
Release date

Windows 10, MacOS – June 12, 2018
iOS – September 6, 2018

Protocol version

261

Other instances
of 1.4
1.4.0 (Windows) or 1.4.1 (macOS) was an update for Education Edition which added most of the Update Aquatic features equating to Update Aquatic (Phase 1) for Bedrock Edition (1.4.0).[2] It is the first version to be released at iOS devices.
Additions
[
]
Blocks
Items
Entities
Fish mobs (salmon, cod, pufferfish, tropical fish)
Dolphins (follow boats, get a boost swimming next to them)
Structures
Underwater ravines and caves
Biomes
Nine ocean biomes including frozen ocean
Gameplay
New swimming animation while sprinting in water
General
Changes
[
]
Removed fixed inventory.
Floating items
Boat polish (smoother control)
Water has a completely new look and increased visibility while underwater.
Cameras now emit smoke particles when killed by the player and no longer display the death animation.
NPC interface page is slightly updated.
Agent default name tag color changed to blue.
Fixes
[
]
Reupload
[
]
v1.4.1 (macOS) was reuploaded on June 24, 2018.
References
[
]