Minecraft Interactive Experience
Play Sound
v1.0.0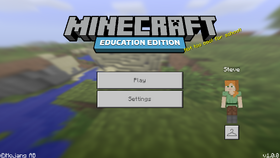 1.0.0 was the first non-development release of Education Edition, adding all the exclusive features and features from Windows 10 Edition. It was officially launched on November 1, 2016.[1][2] It is available for purchase in 11 languages and 50 countries around the world.
Additions
[
]
General
[
]
Simple, Secure Sign-In
Individual student and teacher logins help identify each player in the game, and ensure data privacy & security while playing Minecraft: Education Edition.
Single sign-on (SSO) capabilities are supported, so no additional passwords or accounts are required.
Blocks
[
]
Comes in 3 sizes
Can be written on like signs, but can display more text
Used to create restricted building areas
Allow blocks allow users without the world builder status to place blocks above them
Only users with the world builder status can place blocks above deny blocks
Prevents players and mobs from passing over or under it
Items
[
]
Can be used to save photos taken by the camera
Entities
[
]
An entity that can capture images.
Collections of pictures can be saved with the portfolio.
Mobs, which a similar look to villagers
Will show a "talk" button if the player taps on them
References
[
]