For other uses, see
Well
.
Desert well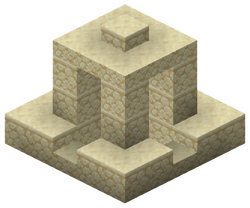 Desert wells are sandstone structures that generate in desert biomes.
Generation
[
]
Desert wells generate only in desert biomes. They have a 1⁄1000‌[JE only] or 1⁄500‌[BE only] chance to be generated in any desert chunk. It is possible for a well to generate around a cactus. The well is considered a natural feature rather than a structure, and therefore it generates with the "Generate Structures" option disabled.[1]
In Bedrock Edition, desert wells have a chance to generate in a cluster between 16 blocks.
Desert well generation is capped at the coordinate Y-128. No desert well can generate on terrain higher than Y-128.
Structure
[
]
Desert wells are built of sandstone blocks and slabs with a water source inside.
Data values
[
]
ID
[
]
History
[
]
Issues
[
]
Issues relating to "Desert well" are maintained on the bug tracker. Report issues there.
Trivia
[
]
Gallery
[
]
See also
[
]
References
[
]