Minecraft Interactive Experience
Play Sound
Delta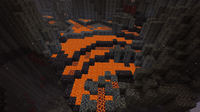 Biomes
Consists of
Can generate in
existing chunks

No
Deltas are one-block-deep sheets of constrained lava found among the terrain of basalt deltas biomes.
Description
[
]
These lava terraces have just enough magma blocks that they don't entirely look like the lava sections of treasure room bastion remnants, of which they can be close by. Tending to be narrower than wide, they sometimes allow passage amongst their lava.
Often diagonal more than straight, they are more visible dangers than lava and magma blocks within basalt piles. Being relatively smooth in elevation, they also do not conceal drops within. They are as likely to be adjacent to such piles of ("eruptive") basalt as to flatter, "cooled lava flows" of basalt and blackstone.
Data values
[
]
ID
[
]
History
[
]
Issues
[
]
Issues relating to "Delta" are maintained on the bug tracker. Report issues there.
Gallery
[
]
References
[
]