The Composter is a utility block that can be used to convert crops and plants into bonemeal.
Mechanics
Players can turn vegetables, seeds, food, or any type of plant block/item into bonemeal by placing it into the composter. Each time an object is placed into the composter, there is a chance that it will appear slightly more full. Once the composter reaches a "full" appearance, placing one more object into the composter will cause a piece of bonemeal to pop out, and the composter will once again become empty. Farmer villagers also use these blocks while working on the farm. If there is a composter block on a village but there is no farmer, then a nearby villager without a profession will become a farmer.
Compostable Objects
Below is a list of blocks and items that can be used as compost, and how likely they are to add a level of material to the composter.
Crafting
History
Composters were added in Java Edition 1.14 snapshot 19w03a, Bedrock Edition 1.10.0 (beta 1.10.0.3), and PlayStation 4 Edition v1.91.
Trivia
Like cauldrons, it's possible to stand inside the composter.
Composters are one of the ways to get bone meal without having to kill skeletons, the other way being via dungeon loot.
You can have an Xray glitch if you stand in a composter than push yourself down with a piston.
Gallery
Video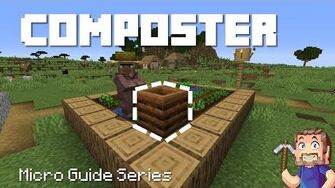 Community content is available under
CC-BY-SA
unless otherwise noted.