Come on! Grow up!

This article is a Minecraft Wiki stub. You can help by expanding the page.
For other coal-related objects found in Minecraft, see Coal (disambiguation).
Charcoal is an alternative to Coal that can be obtained from smelting Logs in a Furnace. It shares the same uses as normal coal. However, charcoal cannot be crafted into a Block of Coal, and neither can charcoal and coal be stacked together.
As well as sharing a similar appearance, charcoal acts exactly like coal, and likewise can also be used to make torches and power minecarts. Charcoal and coal cannot stack with each other and can't be changed with a texture pack. Charcoal is a potent resource to use in an area where coal is sparse.
Obtaining
Charcoal can be created by burning/smelting wood as the ingredient in a furnace.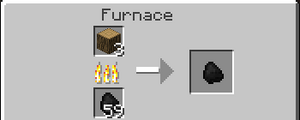 Crafting
Trivia
Community content is available under
CC-BY-SA
unless otherwise noted.