This article is a work in progress.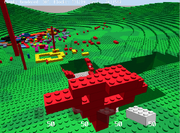 From September 5, 2011[1] to July 19, 2012, Mojang was co-developing a video game titled Brickcraft (codenamed "Project Rex Kwon Do") alongside The Lego Group.
Before the title had reached a significant stage of development, Mojang cancelled the collaboration to focus on developing their own titles (Minecraft, Scrolls, and 0x10c at the time).[2]
Despite the cancellation, The Lego Group briefly considered acquiring Mojang, but according to Ronny Scherer, the senior director for the LEGO Games Asia/Pacific division, they decided against it as Minecraft "was still emerging" and they had "no guarantee that it would end up becoming the cultural phenomenon that it became".[3][4][5]
References
[
]