Minecraft Interactive Experience
Play Sound

This article is a work in progress.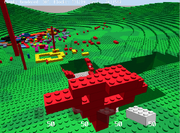 From September 5, 2011[1] to July 19, 2012, Mojang was co-developing a video game titled Brickcraft (codenamed "Project Rex Kwon Do") alongside The Lego Group.
Markus "Notch" Persson and Daniel "Kappische" Kaplan had envisioned a hybrid of Minecraft and LEGO bricks, and reached out to The Lego Group to develop a game in collaboration with them, which was codenamed "Project Rex Kwon Do", in reference to the film Napoleon Dynamite. Mojang hired two new programmers to work on the game, and a prototype was created by Notch.
Before the title had reached a significant stage of development, Mojang cancelled the collaboration to focus on developing their own titles (Minecraft, Scrolls, and 0x10c at the time).[2] Notch claimed at the time that the game had been a first-person shooter.[3]
The game's true nature remained unknown to the public until Brickcraft's existence was revealed in December 2020 in an episode of the Bits N' Bricks podcast, created by The Lego Group to celebrate the 25th anniversary of the first LEGO video game. Daniel Mathiasen, a Lego Group employee at the time, blamed the cancellation on a series of legal hurdles that The Lego Group had put in place to protect the product's family-friendly image, with Daniel Kaplan claiming that the staff at Mojang had felt more like consultants on the project, rather than its designers.
Despite the cancellation, The Lego Group remained partnered with Mojang to produce LEGO Minecraft sets, and briefly considered acquiring Mojang, but according to Ronny Scherer, the senior director for the LEGO Games Asia/Pacific division, they decided against it as Minecraft "was still emerging" and they had "no guarantee that it would end up becoming the cultural phenomenon that it became".[4][5][6]
References
[
]