Minecraft Interactive Experience
Play Sound
beta 1.16.200.53
Edition
Type

Beta

Release date

Xbox One, Windows 10, Android: November 5, 2020

Beta for
Protocol version

422
Beta 1.16.200.53 is the third beta version for Bedrock Edition 1.16.200, released on November 5, 2020,[1] which added new sounds settings, ray-tracing features from RTX Beta, parity from Java Edition and fixes bugs.
Additions
[
]
General
[
]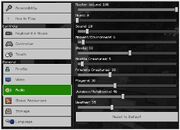 Added more settings to the Audio settings to be in parity with Java Edition:

Master Volume
Ambient/Environment
Blocks
Hostile Creatures
Friendly Creatures
Players
Jukeboxes/Note Blocks
Weather

Added "Upscaling", "Ray Tracing" and "Ray Tracing Render Distance" to the Video settings, ported from the RTX Beta. These options can only be toggled if the user has the required min-spec hardware. https://help.minecraft.net/hc/en-us/articles/360052769812

Upscaling used to boost frame rates on GeForce RTX graphics cards with NVIDIA DLSS 2.0.
Ray Tracing used to toggle the Ray Tracing on or off.
Ray Tracing Render Distance used to control the chunk render distance ray tracing are visible at once.
Changes
[
]
General
[
]
Added various UI elements to communicate ray tracing capabilities in the Marketplace (Windows 10 Only)

Resource packs in the Marketplace are now aware of ray tracing capabilities and will display a label indicating support in the UI
Attempting to purchase and/or download a resource pack that requires ray tracing will notify the user of a purchasing error when that user does not have the required min-spec hardware.
Renamed "Master Volume" to "Main" in the Audio settings.
Fixes
[
]
Performance and Stability
Fixed several crashes that could occur during gameplay
Fixed a bug where Minecraft would occasionally crash when loading a local world
General
'Strawberry Blonde' color now has correct name in the character creator (MCPE-102674)
Fixed a bug where if the view bobbing setting was disabled the player's hand would still bob (MCPE-79380)
Fixed an issue where loot tables with a set_data function produced incorrect loot items
Accessibility
Fixed an issue where the Servers tab would not correctly read text-to-speech prompts when not signed into a Microsoft account
Fixed various issues where text-to-speech indices on the start screen were not correct
Fixed issues where user interface controls would be improperly indexed in text-to-speech for popup modals
Reduced transparency on top row of buttons in Touch UI to improve readability
Gameplay
Netherite Armor now gives a 90% reduction in Knockback (MCPE-77430)
Mobs
Bees will no longer stray more than 22 blocks from their home Beehive (MCPE-60252)
Graphics, Textures, and User Interface
Ghost items in the crafting grid now have a different colored background depending on item availability in the inventory
The Player Permissions menu can now be navigated using a controller regardless of the players permission level
Marketplace
Owned packs are now refreshed correctly after restarting the game
References
[
]