Minecraft Interactive Experience
Play Sound
v1.5.3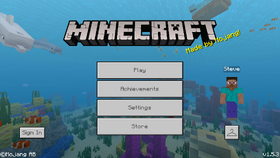 Edition
Internal version

1.5.3.0
Windows 10: 1.5.300.0

Release date

August 7, 2018

Protocol version

274
1.5.3 is a minor update to Bedrock Edition released on August 7, 2018, which fixes bugs.[1]
Fixes
[
]
Xbox One worlds that were not appearing after updating to 1.5 will once again appear on the Worlds screen. (MCPE-35364)
Fixed several crashes that occurred during gameplay.
Fixed a crash that could occur for the host when another player leaves the game.
Fixed a crash that could occur when joining a world that was converted from Xbox One Edition.
Fixed a crash that occurred when placing renamed items in an anvil's output slot.
Fixed an exploit that allowed custom skins with custom and invisible geometry, causing unfair advantages in multiplayer games.
References
[
]