Minecraft Interactive Experience
Play Sound
v1.5.1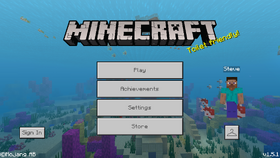 Edition
Internal version

1.5.1.2
Windows 10: 1.5.102.0

Release date

Nintendo Switch – July 19, 2018
Android, iOS, Fire OS, Windows 10, Windows 10 Mobile, Gear VR, Xbox One – July 20, 2018

Protocol version

274

Other instances
of 1.5.1
1.5.1 is a minor update to Bedrock Edition released on July 19-20, 2018,[1] which fixes bugs from 1.5.0.[2]
Fixes
[
]
Fixed several crashes that occurred during gameplay.
The game will now prevent player inventories from being lost. (MCPE-35324)

For those who have lost items, the team is doing further investigation into the issue.

Fixed instances of not being able to login to a Microsoft Account on Nintendo Switch.
Fixed download process getting stuck when joining a game with a Mash-up Pack applied.
Textures no longer become corrupted after applying certain packs in Global Resources on Nintendo Switch. (MCPE-34633)
Infinite notifications no longer occur when switching to Local Network mode during content download.
Fixed several screens being unscrollable with a controller on VR devices.
References
[
]