Minecraft Interactive Experience
Play Sound
v1.4.3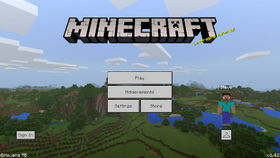 Edition
Internal version

1.4.3.0

Release date

iOS – June 5, 2018

Protocol version

261

Other instances
of 1.4.3
1.4.3 is a minor update to Bedrock Edition released only for iOS on June 5, 2018,[1] which fixes an account issue.[2] It is compatible with devices running 1.4.2. This update didn't bring any code changes.[3]
Additions
[
]
General
[
]
New map called Kingdom Survival from Blockceptions.

Can be downloaded for free for a limited time only (1 month) starting from June 5, 2018.[2]
Fixes
[
]
Fixed an issue with kid accounts being unable to play over LAN.[4]
References
[
]