v1.19.2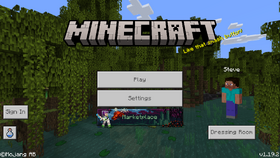 Edition
Server version

1.19.2.02

Internal version

Android, iOS, iPadOS, Fire: 1.19.2.02
Windows: 1.19.202.0
Xbox One: 1.19.202.70
PlayStation: 2.43

Release date

June 22, 2022

Downloads
Protocol version

527

Other instances
of 1.19.2
1.19.2 is a minor update to Bedrock Edition, released on June 22, 2022[1], which fixed some bugs. This release is compatible with 1.19.0 and 1.19.1 on other platforms.
Fixes
[
]
Fixed several crashes that could occur during gameplay.
Fixed a bug on certain flat worlds where below-0 terrain was accidentally being removed on level load, if there was bedrock at y=0 (MCPE-156679, MCPE-156698).
Mobs that teleport through a Nether portal with a destination above y=128 will no longer have their position adjusted to 128 (MCPE-155465).
References
[
]