Minecraft Interactive Experience
Play Sound
v1.18.12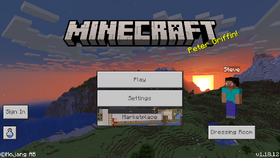 Edition
Server version

1.18.12.01

Internal version

Android: 1.18.12.01
Fire: 1.18.12.01[1]
PlayStation: 2.39
Windows: 1.18.1201.0
Xbox: 1.18.1201.70

Release date

Windows, Android, iOS, iPadOS, Fire, Xbox, PlayStation: February 16, 2022
Nintendo Switch: February 21, 2022

Downloads
Protocol version

486
1.18.12 is a minor update to Bedrock Edition released on February 16-21, 2022, which fixes bugs.[2]
While this wasn't the last update to 1.18.0, it was the last one before the beta/Preview builds of 1.19.0 started.
Fixes
[
]
Improved the smoothness of player movement (MCPE-152176).
The pause menu's "Invite to Game" button is now always enabled on Realms.
Fixed issue where ratings count and offer tiles were not visible in the Marketplace.
Fixed an issue with experience being granted when moving items from the hotbar in the furnace UI screens (MCPE-152227).
Fixed a crash that could occur when launching the game on PlayStation while connected with Remote Play (MCPE-143803).
Fixed a bug where animation timeline events at 0.0 would sometimes not run in looping animations.
References
[
]