v1.17.34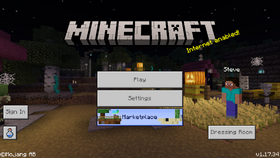 Edition
Server version

1.17.34.02

Internal version

Android: 1.17.34.02
PlayStation 4: 2.31
Windows 10: 1.17.3402.0

Release date

Android, iOS/iPadOS: October 5, 2021
PlayStation 4, Windows 10: October 6, 2021

Downloads
Protocol version

465
1.17.34 is a minor update to Bedrock Edition released on October 5–6, 2021, which fixes a bug with redeeming codes.[1] This version is still compatible with all Bedrock platforms running on 1.17.30 until 1.17.33.
FidxxhzjjsJjKsksaksdjjdjdjdjs
Ahshdjsjsjsjsajkaaksjajsjsjjdjdhfhajjasjsjajasjjajaajjaahsajajjaajsjajjajssjajasjsjsjssjsjsjs
Fixed an issue with owned content not appearing in the inventory after redeeming a retail code.
References