Minecraft Interactive Experience
Play Sound
v1.16.40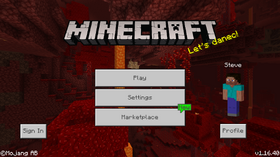 Edition
Server version

1.16.40.02

Internal version

Android: 1.16.40.02
PS4: 2.12
Windows 10: 1.16.4002.0
Xbox One: 1.16.4002.70

Release date

PS4: August 26, 2020
Android, Windows 10, Windows 10 Mobile, Gear VR, Fire, Fire Phone, Xbox One: September 3, 2020
iOS, iPadOS, Fire TV: September 4, 2020
Nintendo Switch: September 11, 2020
Xbox Series X|S: November 10, 2020

Downloads
Protocol version

408
1.16.40 is a minor update to Bedrock Edition which fixes bugs.[1] 1.16.40 was released for the PlayStation 4 on August 26, 2020, all other platforms except iOS, iPadOS, Nintendo Switch and Fire TV on September 3, 2020, iOS, iPadOS, and Fire TV on September 4, 2020, and finally Nintendo Switch on September 11, 2020. This version is still compatible with all Bedrock platforms running on 1.16.20 and 1.16.21.
It is the last Bedrock version for Gear VR and Windows 10 Mobile.[note 1]
Fixes
[
]
Fixed the Microsoft account sign-in screen repeatedly appearing after losing internet connection on Nintendo Switch (MCPE-95651).
Fixed account linking occurring every time the game is launched after playing another game on PlayStation 4.
Fixed an issue with the account sign-in button becoming unresponsive.
Fixed a number of crashes on iOS devices (MCPE-96184).
Notes
[
]
↑

As these devices were discontinued, when a single release date for a version occurs across all platforms, these devices will not be included in that release date hereafter.
References
[
]