Minecraft Interactive Experience
Play Sound
v1.16.201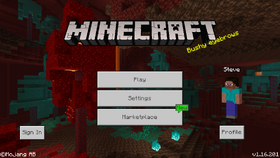 Edition
Server version

1.16.201.02
1.16.201.03

Internal version

Android: 1.16.201.01[1]
PlayStation: 2.20
Windows 10: 1.16.20102.0
Xbox One: 1.16.20102.70

Release date

December 15, 2020

Downloads

Server (1.16.201.02):
Windows, Linux
Server (1.16.201.03):
Windows, Linux

Protocol version

422
1.16.201 is a minor update to Bedrock Edition, released on December 15, 2020, which fixes bugs.[2]
It is the last Bedrock version to be released for the Fire Phone.
Fixes
[
]
Fixed the game failing to launch on multiple Windows 10 devices (MCPE-102530).
Double Chests placed at chunk borders no longer become partially invisible and don't crash the game when they are opened (MCPE-106030).
Shulker boxes no longer lose everything inside their inventory when undyed using a cauldron (MCPE-108196).
Fixed main menu buttons being invisible on older AMD graphics cards.
Fixed a crash that could occur after suspending and resuming while creating new world on Android.
References
[
]