Bedrock Edition 1.16.201
v1.16.201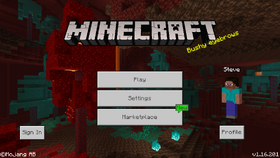 Edition
Server version

1.16.201.02
1.16.201.03

Internal version no.

Android: 1.16.201.01[1]
PS4: 2.20
Windows 10: 1.16.20102.0

Release date

December 15, 2020

Downloads

Server (1.16.201.02):
Windows, Linux
Server (1.16.201.03):
Windows, Linux

Protocol version

422
1.16.201 is a minor update to Bedrock Edition, released on December 15, 2020, which fixes bugs.[2] It was the last full version to be released in 2020 and the last version to support Android 4.x; further versions require Android 5.0 and above to play. This version also removes support for third party shader resource packs for Windows 10 or Console versions.
Fixed the game failing to launch on multiple Windows 10 devices (MCPE-102530).
Double Chests placed at chunk borders no longer become partially invisible and don't crash the game when they are opened (MCPE-106030).
Shulker boxes no longer lose everything inside their inventory when undyed using a cauldron (MCPE-108196).
Fixed main menu buttons being invisible on older AMD graphics cards.
Fixed a crash that could occur after suspending and resuming while creating new world on Android.
Compatibility
[
edit
]
Third party shader resource packs are no longer supported on Windows 10 or Console versions, but still work on mobile devices that do not use the new RenderDragon engine.
References
[
edit
]