Minecraft Interactive Experience
Play Sound
v1.16.10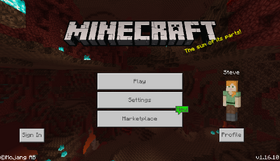 Edition
Server version

1.16.10.02

Internal version

Android: 1.16.10.02
Windows 10: 1.16.1002.0
Xbox One: 1.16.1002.70

Release date

Android, iOS, iPadOS, Gear VR, Windows 10, Windows 10 Mobile: July 21, 2020

Downloads
Protocol version

407
1.16.10 is a minor update to Bedrock Edition released on July 21, 2020, which adds a warning on deprecated devices and fixes a bug for mobile devices.[1] This update was not released for consoles.[2]
Additions
[
]
General
[
]
Added a prompt message for older devices to notify the discontinuation of Gear VR, Windows 10 Mobile, Android devices with less than 768MB of RAM, iOS devices running iOS 10 or below, and video cards that only support DirectX 10.1 or below.[3]

The last update for Gear VR devices and Windows 10 Mobile was 1.16.40.
Fixes
[
]
Fixed broken trading screen slots on mobile devices
References
[
]