Minecraft Interactive Experience
Play Sound
v1.14.20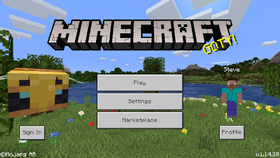 Edition
Server version

1.14.20.1

Internal version

Android: 1.14.20.1
PS4: 2.02
Windows 10: 1.14.2001.0
Xbox One: 1.14.2001.70

Release date

Android, iOS, Fire OS, Windows 10, Windows 10 Mobile, Gear VR, Fire TV, Xbox One, PS4: January 28, 2020
Switch: February 4, 2020

Development versions

Downloads

Server (1.14.20.1):
Windows Linux
Server (1.14.21.0):
Windows Linux

Protocol version

389
1.14.20 is a minor update to Bedrock Edition released on January 28, 2020, which fixes bugs.[1]
Fixes
[
]
Crashes
Fixed several crashes that could occur during gameplay.
Fixed several crashes that could occur when loading into world on Nintendo Switch.
Placing a compass and locator map in the crafting grid no longer causes the game to crash. (MCPE-57882)
Fixed a crash that could occur when traveling through a nether portal with another entity. (MCPE-58568)
Fixed a crash that could occur when converting a world with fireworks equipped in a crossbow.
Fixed a crash that could occur with raids on converted worlds.
Fixed a crash that could occur when loading the 'Extreme Speed Runner' Marketplace world on PlayStation 4 and Xbox One.
General
Classic skin choices no longer revert after reloading the game. (MCPE-55278)
Fixed .mcworld and .mctemplate files not importing on devices running iOS 13.
Fixed the LittleBigPlanet world and textures not being usable if the game was installed from disc.
Fixed issues with the 'Chroma Hills' texture pack not loading on Nintendo Switch.
Split-screen players can no longer be left in a limbo state when joining the game while the primary player quits at the same time.
Fixed Microsoft account errors for Nintendo Switch users.
Fixed Nintendo Switch user's difficulty joining cross platform friends.
Gameplay
Projectiles can now be shot through the gap between two honey blocks.
Players no longer bounce when being pushed and pulled by honey blocks and pistons. (MCPE-53815)
Mobs
Fixed an issue that prevented mobs from spawning under transparent blocks (MCPE-59682).
Bees no longer fly in and out of a beehive or nest that is on fire. (MCPE-53872)
Fixed tamed wolves not breeding by increasing their breeding priority. (MCPE-59570)
Tamed parrots sitting on the player's shoulder are now transitioned after world conversion.
Fixed pillagers not attacking players after world conversion.
Fixed players not obtaining Bad Omen when killing a pillager captain after world conversion.
Items
Tridents no longer bounce continuously on the sides of honey blocks. (MCPE-53626)
Honey bottles now show the proper item tooltip. (MCPE-61195)
Undyed shulker boxes now retain their color after world conversion. (MCPE-36744)
User interface
A confirmation prompt now appears if purchasing Realms on Nintendo Switch.
Fixed an issue that could cause text to overlap when using different window resolutions in the Marketplace.
Commands
Beehives and bee nests now have proper textures when placed with the /setblock command.
Defining an execute location no longer breaks the "detect" argument.
Add-ons
Fixed an issue that could sometimes prevent behavior pack animations from working on Android. (MCPE-56117)
The sensing component (used for ranged attacks) now calculates the view direction like it used to, making it so mobs can see their target on the y-axis.
Fixed an issue that was preventing players from being teleported and rotated smoothly.
Fixed the order of on_exit and on_entry events being reversed in animation controller state transitions.
Local space for particles attached to entities will once again inherit the locator's bone rotation.
Trivia
[
]
Originally, this version was going to be known as Bedrock Edition 1.14.2.
References
[
]