v1.14.1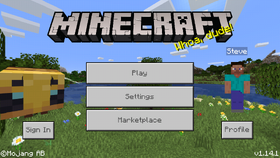 Edition
Server version

1.14.1.4

Internal version

Android: 1.14.1.5
PS4: 2.01
Windows 10: 1.14.105.0
Xbox One: 1.14.105.70

Release date

Android, iOS, iPadOS, Fire OS, Windows 10, Windows 10 Mobile, Gear VR, Xbox One: December 18, 2019
PS4, Nintendo Switch: December 19, 2019

Development versions

Downloads
Protocol version

389

Other instances
of 1.14.1
1.14.1 is a minor update to Bedrock Edition released on December 18–19, 2019,[1] which fixes bugs.[2]
Fixes
[
]
Crashes
Fixed several crashes that occurred during gameplay, across all platforms.
Fixed a crash that occurred when signing into Xbox Live on some Android devices.
Added a potential fix for a crash and user interface corruption that occurred after updating the game on Xbox One.
Performance
Improved performance in areas with high numbers of players.
Increased performance when loading skins on featured servers.
General
Fixed some achievements and trophies unlocking for all players during a multiplayer session.
Gameplay
View bobbing once again behaves correctly when facing North and South. (MCPE-56214)
Mobs
Bees now become hostile towards the player when baby bees are attacked.
Bees now die after attacking. (MCPE-53860)
Monsters no longer spawn on glass and leaves.
Items
Fixed items disappearing when crafting several items. (MCPE-56118)
Fixed some instances of milk randomly disappearing from buckets. (MCPE-57194)
Character creator
Fixed some character creator items appearing incorrectly.
Fixes to character creator screens when scrolling with the right thumbstick.
Graphical
Fixed broken textures appearing after resource packs are deactivated.
User interface
Fixed the prompt that appears when split-screen guests attempt to join a multiplayer world without a Nintendo Switch Online subscription.
Fixed the Sign In button on the main menu having the wrong position and touching the edge of the screen with some languages.
Fixed an issue that caused some players not to be able to leave the inventory screen on the Marketplace.
Fixed placeholder text appearing on the resource packs and behavior packs screens.
Various fixes to the user interface when using Japanese language.
Fixed the Mario skin pack's description never loading on Nintendo Switch.
Trivia
[
]
The first beta for 1.14.1 came out before 1.14.0 was fully released.
This is the final Bedrock Edition update of 2019, and the last Minecraft update of the 2010s decade.
References
[
]