v1.11.1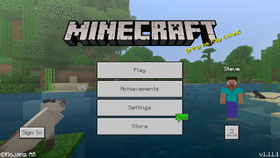 Edition
Server version

1.11.1.2

Internal version

1.11.1.2
Windows 10: 1.11.102.0

Release date

Android, iOS, Fire OS, Windows 10, Windows 10 Mobile, Gear VR, Xbox One – April 26, 2019
Nintendo Switch – May 2, 2019

Downloads
Protocol version

354

Other instances
of 1.11.1
1.11.1 is a minor update to Bedrock Edition released on April 26, 2019, which added an achievement, and fixes bugs from 1.11.0. Multiplayer is still compatible between 1.11.0 and 1.11.1.[1]
Additions
[
]
Gameplay
[
]
Version exclusive

: Added a new achievement:

Master Trader: Trade for 1,000 emeralds (30G)
Fixes
[
]
Fixed a crash that could occur during gameplay.
Fixed a crash that could occur when signing into Xbox Live.
Mobs no longer spawn from monster spawners in areas over light level 7. (MCPE-42427)
Villagers now always spawn as old villagers when using template worlds, including Marketplace worlds.
Fixed a memory leak that occurred with the scripting engine.
References
[
]