Bedrock Edition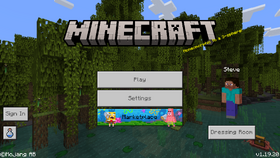 Author(s)
Platform(s)

Native:

Backwards-compatible:

Discontinued:

Written in
Latest version

Release: 1.19.11
Beta: beta 1.19.20.24
Preview: Preview 1.19.20.24

Release date

Android Lollipop (5.0)+

October 7, 2011[10]
January 30, 2013
(Gingerbread (2.3)+)[11]
April 13, 2016 (Ice Cream Sandwich (4.0)+)
October 10, 2018
(Jelly Bean (4.2)+)
April 28, 2021
(KitKat (4.4)+)
May 6, 2021
(Lollipop (5.0)+)[12]

iOS & iPadOS 10+

November 17, 2011 (4.3.3+)
August 15, 2013 (5+)
April 27, 2016 (6+)
June 13, 2016 (8+)
September 24, 2019 (iPadOS)
June 23, 2020 (9+)
November 17, 2020 (10+)

Fire OS 5+

September 13, 2012
December 18, 2013 (2+)[13]
April 2, 2014 (Fire TV)
July 25, 2014 (Fire Phone)
October 11, 2015 (3+)[13]
June 8, 2021 (5+)[12]

Windows 10 Mobile

December 10, 2014
(Windows Phone 8.1)
February 22, 2017
(Windows 10 Mobile)

Windows 10+

July 29, 2015 (10+)

Gear VR

April 27, 2016

Oculus Rift

August 15, 2016

ChromeOS

September 2016

Apple TV & Fire TV

December 19, 2016

Xbox One

September 20, 2017

Windows Mixed Reality

November 21, 2017

Nintendo Switch

June 21, 2018

PlayStation 4

December 10, 2019

PlayStation VR

September 22, 2020

Rating(s)
Size

As of 1.19.10:

License

Proprietary

Source available

No

Links

Web pages:

Free trial:

Base Game:

Java & Bedrock Edition (Windows):
iOS & iPadOS:
Fire:
Nintendo Switch:

Starter Collection:

Preview:
| | | |
| --- | --- | --- |
| " | Explore infinite worlds and build everything from the simplest of homes to the grandest of castles. Create, explore, and survive alone or with friends on mobile, PC, and console devices. | " |
| | — minecraft.net on Minecraft: Bedrock Edition | |
Minecraft: Bedrock Edition (officially just Minecraft) refers to the multi-platform versions of Minecraft developed by Mojang Studios, Xbox Game Studios, and SkyBox Labs and based on the Bedrock codebase.
Bedrock codebase
The term "Bedrock Edition" comes from the Bedrock codebase, which was created in the C++ programming language to run on platforms that cannot support Java. Code was added to accommodate differences in the target platforms for such facilities as networking and storage access, though around 90% of the code is used on every platform. This common core of functionality is called the "Bedrock engine".
The codebase resides within a software system that manages the pieces of code and tracks their evolution. This allows the codebase to host not only the current version but all past versions, the standalone Bedrock Dedicated Server (BDS) versions, and several Beta versions simultaneously with no conflicts.
Target platform builds are created individually, then transmitted to the platform's app store. Most stores have their own compliance requirements and subject the incoming edition to a series of certification tests before making it available for download. Xbox Game Studios attempts to synchronize availability across stores, but the certification process is not under their control and can delay an edition's availability on a certain platform, especially if it fails certification and has to go back to the developers for a fix.
Bedrock code is used for Education Edition, China Edition and Minecraft Dungeons, as well as the discontinued Pi Edition, New Nintendo 3DS Edition, and Minecraft Earth.
Nomenclature
Up until June 7, 2022[29], the name "Bedrock Edition" was not the official name of any edition of the game. Starting with the Better Together Update, all Bedrock editions of Minecraft have been named simply Minecraft. Before then, they each had a subtitle identifying the target platform, including Pocket Edition (for all mobile platforms), Windows 10 Edition, Gear VR Edition, and Fire TV Edition. The earliest of these was Pocket Edition, also known as "MCPE" or "PE", and these names were (and still are) sometimes used to refer to all the Bedrock editions, possibly even including those that were introduced after the renaming occurred.
The renaming of the Bedrock editions to Minecraft with no "Edition" subtitles created confusion in the community for several reasons:
This name had until then referred to the version now known as Java Edition, which is not Bedrock Edition. The Java version was renamed to Minecraft: Java Edition at the same time the Bedrock editions were renamed to Minecraft, so for a while any use of the name was hopelessly ambiguous.
Although officially named just Minecraft, the Bedrock editions for consoles are marketed as Minecraft for Xbox, Minecraft for Nintendo Switch, and Minecraft for PlayStation 4.[30][31][32] These names are similar to the Legacy Console Editions on the same platforms, styled as Minecraft: Xbox One Edition, Minecraft: PlayStation 4 Edition, and Minecraft: Nintendo Switch Edition, leaving many confused about the differences between the two versions.
The term "Minecraft" was (and still is) also commonly used to refer to the game in general.
Together, these complications made the official name Minecraft useless for referring to the Bedrock editions collectively. The editors of this wiki, however, needed such a term in order to describe the functioning of the Bedrock engine across all editions, so despite there not being a real Bedrock Edition, the wiki chose to use this as a term of art. Subsequently, the community adopted it as well and it is now the de facto standard term for referring to all the Bedrock editions collectively. Mojang Studios employees have also used Bedrock Edition to refer to said edition in news articles, until June 7, 2022 where both Java Edition and Bedrock Edition is sold under one bundle, titled "Minecraft: Java & Bedrock Edition"[33], marking the first official use of "Bedrock Edition" as a subtitle in any Bedrock editions.
Gameplay
The objective of the game remains the same as its Java Edition and Legacy Console Edition counterparts, where players can build virtual realities in a sandbox-like environment. Like them, Bedrock Edition has survival elements such as hunger and brewing, and the Nether and the End dimensions. The multiplayer mode is cross-platform compatible between all supported devices.[34]
Bedrock Edition differs from Java Edition and Legacy Console Edition in a variety of ways, such as more saturated graphics, different terrain generation, some exclusive items, and an official add-on system.[35] The HUD and other elements vary for each relevant device. Players can interact with the game via keyboard and mouse, touchscreen or controller.
Differences from Java Edition include:
Multiplayer allows for 4 ways of player connection:

LAN, allowing for 8 or more players to be on a single world
A Microsoft account. However, since December 1, 2020, Java Edition also uses Microsoft accounts.[36]

A list of "featured" (Mojang Studios partner) servers, offering predefined multiplayer mini-games in a Minecraft setting, is also provided.
Some features of Bedrock Edition are available only on certain platforms.
Virtual reality is available only on Windows and PlayStation 4.
Importing or exporting worlds is supported only on Windows.
Joining servers through IP isn't supported by Xbox One, Nintendo Switch, or PlayStation 4.
Windows, Android, iOS, iPadOS, and Fire devices supports multiple different control types. Keyboard & Mouse, Controller, and Touch.
The scripting engine is available only on Windows.
Compatible devices
&
Minimum version
Windows 10 version 1803 (build 17134.0)[37]
Android Lollipop (5.0)[37]
Fire OS 5

Latest version: Fire OS 5
Until 1.17.0: Fire OS 3
Until 0.12.2: Fire OS 2

iOS 10[37]

Latest version: iOS 10
Until 1.16.100: iOS 9
Until 1.16.0: iOS 8
Until 0.15.0: iOS 6
Until 0.14.2: iOS 5
Until 0.7.3: iOS 4.3.3

Processor

Intel Celeron J4105 | AMD FX-4100 (Intel i7-6500U | AMD A8-6600K recommended)

Any with support of floating-point calculations ("ARM-v7a code") and Neon[38]
Dual-core A6 processor or later
Video card

Intel HD Graphics 4000 | AMD Radeon R5 (NVIDIA GeForce 940M | AMD Radeon HD 8570D recommended) (Minimum RTX 2060 For RTX)

Not applicable
Graphics
DirectX 12 FL 11
Any with support of OpenGL ES 2.0
RAM memory
4 GB (8 GB recommended)
768 MB
512 MB minimum
Storage
300 MB (100 MB to 1 GB is the max to save a map)
Data connection
Optional (Realms access)
Supported devices

Any Surface except original Surface, Surface 2, & Surface Duo line
Most Windows PCs

Pixel (all models)
Most Android mobile devices

Fire HD (2014 or later)
Fire (2015 or later)
Fire HDX 8.9 (2014)

iPhone 5 or later
iPhone SE (all models)
iPad (4th gen) or later
iPad Air (all models)
iPad mini 2 or later
iPad Pro (all models)
iPod touch (6th gen) or later
Some devices below these specifications have been known to work fine either with or without custom ROM images, kernels, and overclocking of the CPU. The MSM7227 CPU is not supported due to its lack of the floating-point unit.[39] The "Tegra 2" processor is also not supported because it lacks support for Neon.
Development
Release
A video of an early prototype was released on Twitter, showing the game on the Xperia PLAY. The Alpha version was later released, and was released for different platforms on October 7, 2011. The non-exclusive version was going to be released on September 29 for Android[40] but there were several severe bugs that needed to be fixed; the release was delayed until October 7.
A version for iOS devices was confirmed to be released before 2012 in an interview with Mojang Studios[41] and was subsequently released on November 17, 2011.
Alpha
After the initial releases for Android and iOS, updates were released in parallel, with the same features being added for both platforms. During the Alpha stage, various aspects of gameplay were introduced into the Bedrock codebase including: crafting, smelting, more blocks, items, mobs and more game modes to bring it closer to the Java Edition. As the Pocket Edition development team works closely, often blocks released on the Java Edition are released around the same time for Pocket Edition. Certain features were also tested on Pocket Edition before their Java releases, such as beetroots and their related items, and also block models.
During the Alpha phase, the Bedrock codebase was ported to more platforms: first, Pocket Edition was released for Fire on September 13, 2012, and for Windows Phone on December 10, 2014. The Windows 10 Edition Beta was released on July 29, 2015, at a higher price than Pocket Edition. Gear VR Edition was released April 27, 2016 for the same price as Pocket Edition.
Two other versions of Minecraft that are based on the Bedrock codebase, but separate from Bedrock Edition, were also released during this period. Pi Edition is a free and discontinued version of Minecraft for the Raspberry Pi, which was based on an old alpha version of Bedrock. Education Edition was released for Windows and macOS on November 1, 2016.
Full release
Bedrock Edition
Starting version

1.2.0 (September 20, 2017)

Latest version

Android: 1.19.11
iOS & iPadOS: 1.19.11
Fire: 1.19.11
Windows: 1.19.11
Xbox: 1.19.11
Nintendo Switch: 1.19.11
PlayStation: 1.19.11

Paid

Yes,
iOS, iPadOS, and Fire: $6.99
Android : $7.49
Xbox & PlayStation: $19.99
Windows & Nintendo Switch: $29.99
On November 11, 2016, the full release of the game, version 1.0.0 (dubbed the Ender Update), was announced. It was released on December 19, 2016, along with the Apple TV Edition and Fire TV Edition. Pocket Edition began to receive updates again for Windows 10 Mobile on February 22, 2017.[42]
From version 1.2.0, the Better Together Update, the Bedrock editions no longer have the "Edition" subtitle and are renamed to simply Minecraft.[43] A port of Bedrock Edition for Xbox One was released along with the update, and one for the Nintendo Switch was released digitally and physically on June 21, 2018.[44] PlayStation 4 users received the Bedrock Edition with the 1.14.0 update on December 10, 2019.[45] Owners of the original Legacy Console Edition for these consoles are able to download the new version for free. In October 2020, the Gear VR and Windows 10 Mobile editions of the game were discontinued.[46] In June 2021, the Fire TV edition of the game was discontinued.[47]
Beta and Preview test versions
Starting on November 22, 2013,[48] Mojang Studios began to publicly release testing versions of full updates to Android users who opt into the beta program, in order to get major feedback, especially for bug reporting. This enabled the official updates to be considerably more stable.
Versions from 0.8.0 to 0.12.1 required opting into a Google+ group to receive development builds. Players would then see development updates appear as normal updates in the Play Store. On July 17, 2015, the Google+ group was removed due to the amount of spam and advertisements that the group attracted.[49][50][51] On November 3, 2015, the PE Beta team published a dedicated blog[52] that was subsequently used for users to opt into the 0.13.0 beta program and to display changelogs for these development builds.
The Xbox Insider Hub app is used to opt into the beta program on Windows since July 31, 2017, and on Xbox One since August 24. Before the release of the Better Together Update, the Xbox One beta was available only to owners of the digital version of the original Xbox One Edition, and not owners of the disc version.
Starting on January 31, 2022, the beta program was expanded to other platforms, starting with iOS and iPadOS, with Minecraft Preview.[53] The previous beta program through Xbox Insider Hub has been phased out and replaced by Minecraft Preview.
Players can also test unfinished or work-in-progress features using Experimental Gameplay, a toggle that can be turned on through world settings, but once on, it cannot be turned off again in that world.
Price
Although all Bedrock editions are nearly identical, the price[note 1] varies depending on the platform. The Android version costs US$7.49 (£5.41), while the iOS/iPadOS and Fire versions cost US$6.99 (£5.05). The PlayStation 4 and Xbox One versions cost US$19.99 (£14.45). The Windows version and the Nintendo Switch version are the most expensive, both costing US$29.99 (£21.68), though the Windows version includes Java Edition. DLC purchased from the Marketplace on one platform is usable on all other platforms, but the game itself is sold separately on each platform. Xbox Live achievements are not shared between platforms and buying the game on one of these platforms does not get the game on the others. The Xbox One and Windows versions are also playable to Xbox Game Pass and PC Game Pass subscribers respectively, with both versions playable to Xbox Game Pass Ultimate subscribers.[54][30] The Xbox One and PlayStation 4 versions are playable on the Xbox Series X|S and PlayStation 5 respectively via backward compatibility.[30][55] As with all other versions of Minecraft, updates are free of charge. On Windows, the game can be launched via the Minecraft Launcher.
Sales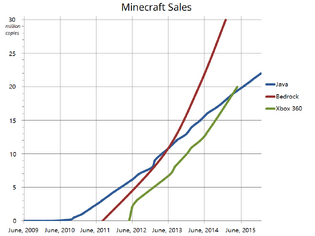 As of December 2013, Pocket Edition (the only Bedrock Codebase edition at the time) had sold 16.5 million copies, while at the same time, the Java Edition had sold 13 million. These calculations came out after the 0.8.0 update.[56] This was considered a huge success, with Pocket Edition outselling both Java Edition and Legacy Console Edition, despite being considered to be the least-developed at the time.
On December 2, 2016, Marsh Davies announced that Pocket Edition had sold over 40 million copies[57] (at the time, Java Edition had sold over 24 million). This statistic included Windows 10 Edition and Gear VR Edition.
Minecraft is also usually in the top 10 and regularly #1 in the App Store's and Google Play's Paid Apps Section in the Top Charts.[58][59]
Platform differences
Further information: Compare platform & features
There are several features in Bedrock Edition that are exclusive to certain platforms due to capability restrictions on different platforms. Here is a table of the features that are available only on certain platforms.
| | | | & | | | | |
| --- | --- | --- | --- | --- | --- | --- | --- |
| Split screen | No | No | No | No | Yes | Yes | Yes |
| Music included | Yes | No‌ | Yes | No‌ | Yes | Yes | Yes |
| Import/Export world button | Yes | No | No | No | No | No | No |
| Structure block 3D export | Yes | No | No | No | No | No | No |
| Custom skins | Yes | Yes | Yes | Yes | No | No | No |
| Join servers via IP | Yes | Yes | Yes | Yes | Partial[a] | Partial[a] | Partial[a] |
| Keyboard controls | Yes | Yes | Yes | Yes | Yes | Partial[b] | Yes |
| Mouse controls | Yes | Yes[c] | Yes | Yes[d] | Yes | No | Yes |
| Touch controls | Yes | Yes | Yes | Yes | No | Partial[e] | No |
| VR | Yes[f] | No | No | No | No | No | Yes[g] |
| Ray tracing | Yes | No | No | No | No | No | No |
| Shader language | HLSL | GLSL | GLSL | GLSL | HLSL | GLSL | PSSL |
| Beta versions | No | Yes | No | No | No | No | No |
| Minecraft Preview versions | Yes | No | Yes | No | Yes | No | No |
| Price (USD) | $29.99[h] | $7.49 | $6.99 | $6.99 | $19.99 | $29.99 | $19.99 |
| Free trial | Yes | Yes | No | No | No | No | Yes |
↑

Can be used only for chat.

↑

Requires Android Oreo (8.0) or later.

↑

Requires Fire OS 7 or later.

↑

Can be used for inventory management and in the UI, but not for game actions (movement, attack, etc.).

↑

Via Oculus Rift, Meta Quest (via Link and Air Link), and Windows Mixed Reality.

↑

Via PlayStation VR.

↑ Includes Java Edition.
Gallery
Notes
References
External links
Java & Bedrock Edition (Windows) store pages
iOS & iPadOS store pages
Fire store pages
Xbox One store pages
Nintendo Switch store pages
Help
Menu screens
Game customization
Editions

Java
Bedrock

| | |
| --- | --- |
| Merged | |
| Ports to consoles | |
| Discontinued | |

Other
Discontinued

Miscellaneous