watch 28:07
Minecraft Interactive Experience
Play Sound
Ambience (also called ambience sounds or ambient sounds) are sounds that can be heard in specific conditions. They were created by C418 and Samuel Åberg.
In Java Edition, the volume of ambient sounds can be changed individually through "Music & Sounds" in the Options menu by changing the "Ambient/Environment" bar. However, this also affects the sounds of firework rockets and such. Many players also find them to be a bit unnerving.
Cave ambience
Cave ambience (eerie noise according to subtitles) is a set of sounds that occasionally play when the player is in proximity to a dark space.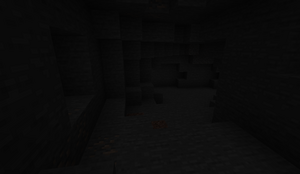 Cave ambience can be played in any dimension, and can be heard in both singleplayer and multiplayer.
Cave ambience may occur when the player is in the vicinity of an air block with a light level lower than 9, without lighting from the sky. In addition, it can be played in the void. The air block that actually plays the sound does not have to be sealed off from the player. There is an interval of several minutes before another sound can be played. When cave ambience is to play, one of the sounds will be chosen randomly. Cave ambience can be used to locate caves, but can also serve as a warning that the area may be prone to hostile mob spawns.
There are 19 cave ambience sounds in total:
Underwater ambience
Not to be confused with the sound produced by
flowing water
called "
Water Ambience
".
Underwater ambience plays while the player's head is underwater. They can be heard within a body of water of any size and in any dimension.
The sound "Underwater Ambience" plays in an endless loop, while the other sounds occur randomly and the "Dark" sounds play more rarely than other sounds.
There are 22 underwater ambience sounds in total:
History
alpha
v1.0.3
Added 13 different cave ambient sounds.
Java Edition
1.2.1
12w07a
The map format was updated to the Anvil format, which now allows ambience to be heard in multiplayer.
Cave Ambience was known to play only in 3×3×3 spaces or larger, but it's been heard playing in spaces of smaller size.
1.9
15w43a
Added cave sound 14.
1.10
pre2
Added cave sounds 15 and 16.
1.12
17w13a
Added cave sounds 17 and 18.
1.13
18w02a
Added cave sound 19.
18w10a
Added 22 different underwater ambient sounds.
Issues
Issues relating to "Ambience", "Ambiance", "Cave sound", "Eerie noise", "Underwater sounds", or "Ocean sounds" are maintained on the bug tracker. Report issues there.
Trivia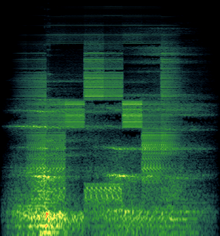 When "Cave 14" is viewed in a spectrogram, it appears to show the face of a creeper.
Ambience still shows up in the subtitles even when turned off.
See also