Agnes Larsson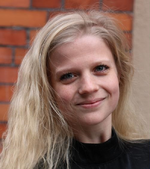 Date of birth
Occupation

Minecraft Vanilla Game Director

Nationality

Swedish

Languages

English, Swedish

Known for

Designing llamas, turtles, pandas, ocean ruins, icebergs and lush caves
Appearances in Minecraft annual votes

Also known as

LadyAgnes

Twitter name
Bug tracker profile
Minecraft name
Agnes 'LadyAgnes' Larsson[3] is a Mojang Studios employee currently working on Java Edition.[4] She was announced as a new team member on August 3, 2016, working on the Java Edition 1.11 'Exploration Update', and eventually, she was announced as the lead gameplay developer.[5] On March 3, 2021, she was promoted to Minecraft Vanilla Game Director.
Biography
[
]
Larsson was born in Sweden and comes from Falkenberg located in southwest Sweden.[6]
She earned a master's degree in Applied Physics and Electrical Engineering in 2013. Before joining Mojang, she was employed by 2 companies, Configura and Scania Group.
Contributions
[
]
Larsson led designs of new additions to Minecraft, such as icebergs, turtles and llamas. She is known for appearing in the Minecraft Live videos that show her and Jens Bergensten in a 2D type of Minecraft, and her goal is to create as much player happiness as possible using Minecraft updates, encompassing many gameplay styles.
Trivia
[
]
In Minecraft Dungeons, her painting on the church seems to be fancier than the others and it has a cat besides her.
Gallery
[
]
References
[
]