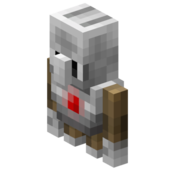 The agent is used in conjunction with Code Connection for Minecraft, and is programmable by a visual ScratchX interface. They are 1 of the 2 mobs exclusive to the Education Edition, the other being the NPC.
The agent carries its own 27-item inventory which can be manipulated by commands the player programs it to use or edited directly by a GUI that the player can access in-game.
The visual interface allows the player to drag and drop commands, structural constructs and other components into a sequence, and associate the sequence with a custom-named slash command which can be executed from the console.
Agent Commands
move <direction>
turn <turnDirection>
attack <direction>
destroy <direction>
drop <int:slotNum> <int:quantity> <direction>
dropall <direction>
inspect <direction>
inspectdata <direction>
detect <direction>
detectredstone <direction>
transfer <int:srcSlotNum> <int:quantity> <int:dstSlotNum>
createagent
tpagent
collect <string:item>
till <direction>
place <int:slotNum> <direction>
getitemcount <int:slotNum>
getitemspace <int:slotNum>
getitemdetail <int:slotNum>
<direction> refers to forward|back|left|right|up|down
<turnDirection> refers to left|right
Trivia