For other redstone-related articles, see Redstone (disambiguation).
1.5 (also referred to as the Redstone Update) was a major update for Minecraft: Java Edition, released on March 13, 2013. This update saw the introduction of most of the Redstone components that are available in Minecraft today.
Java Edition version history
◄ 1.4.2 • 1.5 • 1.6 ►
Additions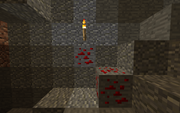 Items
Blocks
Commands
Scoreboard commands added.
/effect command added.
Changes
General
Texture packs were changed to resource packs.
More death messages.
Realms added.
Blocks
Mobs
Slime spawning is now based on the moon's cycles in swamp biomes.
Gameplay
Efficiency no longer works on blocks outside of respective tool type (Ex. Efficiency pickaxes no longer break grass faster.)
Video
Community content is available under
CC-BY-SA
unless otherwise noted.