Come on! Grow up!

This article is a Minecraft Wiki stub. You can help by expanding the page.
Java Edition version history
◄ 1.14 • 1.15 • 1.16(NYR) ►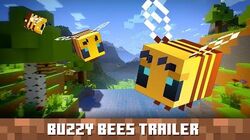 1.15, the first release of Buzzy Bees,[1] is a major update to Minecraft Java Edition that was released on December 10, 2019. [2][3][4][5]
It was confirmed by Mojang that 1.15 would not focus on caves.[6] It was also confirmed by Maria Lemón via Twitter that this will be the next major update - not the Nether Update announced at MINECON Live 2019.[7]
Additions
Mobs
Items
Blocks
doImmediateRespawn – players respawn immediately without showing the death screen
drowningDamage – whether players should take damage from drowning
fallDamage – whether players should take fall damage
fireDamage – whether the player should take fire damage
Gameplay
Added 3 new advancements:

Sticky Situation - Break a fall by landing on a honey block
Bee our Guest - Safely collect honey from a bee nest or hive with a campfire
Total Beelocation - Carry a bee nest with 3 bees inside it

Sneak and Sprint inputs can now be switched between Hold and Toggle mode in the Accessibility Options
Added new particles
Added new tags
Changes
Minecraft now requires OpenGL 2.0

Right-clicking on a bed during daytime will now set the player's spawn location to that bed

Bells now ring if powered with a redstone signal

Firework rockets dispensed from a dispenser now travel in the direction they were fired

Wet sponges now dry out when placed in the Nether

Dispensers can now be used to collect honey bottles, water bottles, and honeycombs; and can also place Armor Stands

Iron golems now crack as they lose health and can be repaired with iron ingots
Campfires can now be extinguished with a shovel
Composters are now crafted with wooden slabs, instead of fences and wooden planks
Dark Prismarine is now crafted from black dye instead of Ink Sacs
End Stone Bricks now have a hardness of 3 and a blast resistance of 45
Fixes
Fixed 303 bugs.
Snapshots and Pre-releases
There are 15 snapshots and currently 7 Pre-releases as of December 9, 2019: 19w34a, 19w35a, 19w36a, 19w37a, 19w38a, 19w38b, 19w39a, 19w40a, 19w41a, 19w42a, 19w44a, 19w45a, 19w45b, 19w46a, 19w46b, Pre-release 1, Pre-release 2, Pre-release 3, Pre-release 4, Pre-release 5, Pre-release 6 and Pre-release 7.
References
Community content is available under
CC-BY-SA
unless otherwise noted.