| | |
| --- | --- |
| | This article contains content about features that are not yet released. |
1.14
(also referred to as
Village and Pillage
) is an upcoming
update
for
Minecraft: Java Edition
, planned to be released in early 2019. This update will include new varieties of stairs, slabs
[1]
, blocks,
Mobs
, and other features.
As announced at Minecon 2018, the update may include any of the content that was mentioned in the the live stream.[2]
It has been confirmed that combat will not be overhauled in this update, with Mojang preferring to collect more player feedback. [3]
Java Edition version history
◄ 1.13 • 1.14 • 1.15(NYR) ►
Additions
Mobs
Building Blocks
Utility Blocks
All of these blocks are found in Villages
The following are uncraftable and have no functionality, but are still found in villages
World Generation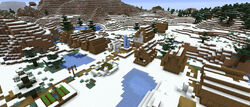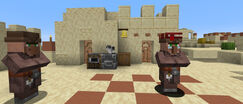 Items
Biomes
Status Effects
New Status Effect called Bad Omen

Applied when the player kills an Illager Patrol Leader
Triggers an illager raid when the player next enters a village
Two attack waves come for every level of Bad Omen
Villagers stop trading, instead emitting blue particles
Changes
Gameplay
Grindstone is now required to repair tools and weapons without an anvil instead of inventory/crafting table repairing
Technical
Removed option to turn off VBO in the settings of the game. VBO are now forced on.
Blocks
Vines can now be climed without the need of support blocks
Mobs
Villagers will have different themed outfits, depending on the biome they are in.
Items
Textures
All textures are being updated

The legacy texture pack will still be available (called Programmer Art)
References