1.14 (also referred to as Village and Pillage) is an update for Minecraft: Java Edition that was released on April 23, 2019.[1][2][3] Its primary focus is villages, adding a new subset of illagers known as pillagers, and redesigning village architecture to match the biome where it is located. This update also includes many new blocks and mobs, a revamp of the crafting system by moving some functionalities to different blocks, updates the taiga biome with foxes (Foxes only available on Java Edition) and berries, and adds a new bamboo forest jungle variant along with pandas and bamboo.
Java Edition version history
◄ 1.13 • 1.14 • 1.15(NYR) ►
Additions
Mobs
Building Blocks
Utility Blocks
All of these blocks are found in villages
The following have no functionality but are still found in villages
World Generation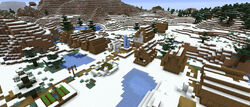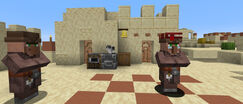 New pillager outpost

Contains a loot chest at the top of the building
Pillagers spawn around the outpost with iron golems imprisoned in cages.

New flowers
New sweet berries and sweet berry bushes, found in the taiga biome

Bushes appear less frequently in the biome's snowy variations.
Appear as decoration in taiga biome Villages.
Items
Biomes
Bamboo jungle and bamboo jungle hills

Contains unique bamboo plants
Have naturally spawning pandas
Status Effects
New status effect called bad omen

Applied when the player kills an illager patrol leader.
Triggers an illager raid when the player next enters a village.
Two attack waves come for every level of Bad Omen.
Villagers stop trading, instead, emitting blue water-particles, as if they are sweating.
Changes
Gameplay
Removed using the crafting grid to combine the durability of damaged tools.
Grindstone is now required to repair tools and weapons without an anvil.
Players can walk through areas that are 1.5 blocks high if they are sneaking.They can also fit through 1 block high spaces and will appear to be on the ground.
Technical
Removed option to turn off VBO in the settings of the game. VBO is now forced on.
Blocks
Vines can now be climbed without the need of support blocks
Mobs
Villagers wear clothes unique to the biome they come from and on what their profession is.
Cats and ocelots are now two separate types of mobs.

Stray cats can now spawn in villages.
Cats get a collar when tamed.
Cats come in ten different textures.
Ocelots,when fed with fish, will trust the player and can be bred .

Witches are now neutral to the player and will appear with a hood on their head (They won't have their hoods and they will remain hostile during pillager raids).
Items
Textures
All textures are being updated

The legacy texture pack will still be available (called Programmer Art)
Subsequent updates
1.14.1
Released on May 13, 2019, this update improved performance and fixed 52 bugs in 1.14. It also added 3 new Splash Texts, the ability to pause the game without bringing up the pause menu, texture fixes, and proper lighting for villages.
1.14.2
Released on May 27, 2019, this update added some characteristics and changes to the Vietnamese, Armenian, and Hebrew font files; changed the bell so that it now finds raiders within 64 blocks instead of 48; and fixed 35 bugs.
1.14.3
Released on June 24, 2019, this update added a gamerule to disable raids, and fixed over 75 bugs.
1.14.3 was the subject of an experimental future combat update released on June 26, 2019. It was a fork of 1.14.3-pre4 and was only released on Reddit, therefore it is unavailable in the launcher or in any Minecraft.net blog post.
1.14.4
Released on July 19, 2019, this update added /debug report (used to get more detailed information while debugging performance), added function-level-permission to server.properties (controls which permissions functions have), modified villager trades and AI, improved general and leaf rendering performance, and chunk loading when traveling at high speeds. This update also fixed 54 bugs.
1.14.4 was the subject of an experimental future combat update released on August 15, 2019. It is a fork of 1.14.4 and was only released on Reddit, therefore it is unavailable in the launcher or in any Minecraft.net blog post.
Trivia
It was confirmed that combat would not be overhauled in this update, with Mojang preferring to collect more player feedback first. [4]
Images
Video
References
Community content is available under
CC-BY-SA
unless otherwise noted.