Java Edition 1.18
Minecraft 1.18
1.18,[1] は、Caves & Cliffsの2番目のリリースであり、2021年末にリリースされる予定のJava Editionの今後のアップデートである。[2] Mojangが21w15aのリリースと並行してCaves & Cliffsが2つに分割することを発表した。[3] バージョン番号は変更される場合がある。
Completely overhauled.
Now stretch down to Y = -59.
The cavern now generates in 2 layers of different stone bases depending on the depth.
Biomes inside of caves introduced such as dripstone caves.
Improved old caves to blend in with the new generations of caves better.[4]
New carver called crack carver, which appears as a fissure on the ground, like ravines but narrower and can go very deep.[5]
New noise caves, coming in 2 forms, cheese and spaghetti.

The original caves still exist, mixing with the noise caves.
Cheese caves have large stone towers stretching from the bottom of the cave to the top.
Spaghetti caves are long, thin caves that have small aquifers and are more similar to original caves.
Deep dark biome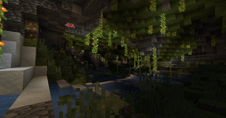 ゲームプレイameplay
[
編集
|
ソースを編集
]
Dimming of light

[

非公式の名称

]
変更lanned changes
[
編集
|
ソースを編集
]
More extreme and smooth terrain.
Likely change to the generation of alternate stone types, to make them appear in larger but less numerous deposits.[7]

Possibly seen in a screenshot tweeted by Henrik Kniberg,[8] in which diorite appears to generate in a long and flat horizontal strip, rather than a small unevenly shaped patch.
The fossils in the deepest part of the underground generate with Deepslate Diamond Ore instead of Coal Ore.
Mesh caves
Seems to be possibly a large tunnel-like cave generation.
Not much is known about this cave variation yet, but it was confirmed on Twitter by Henrik Kniberg.[9]
Possibly contain "catacomb" style branching cave sections.
May be a scrapped idea.
Underground Cabin[

非公式の名称

]